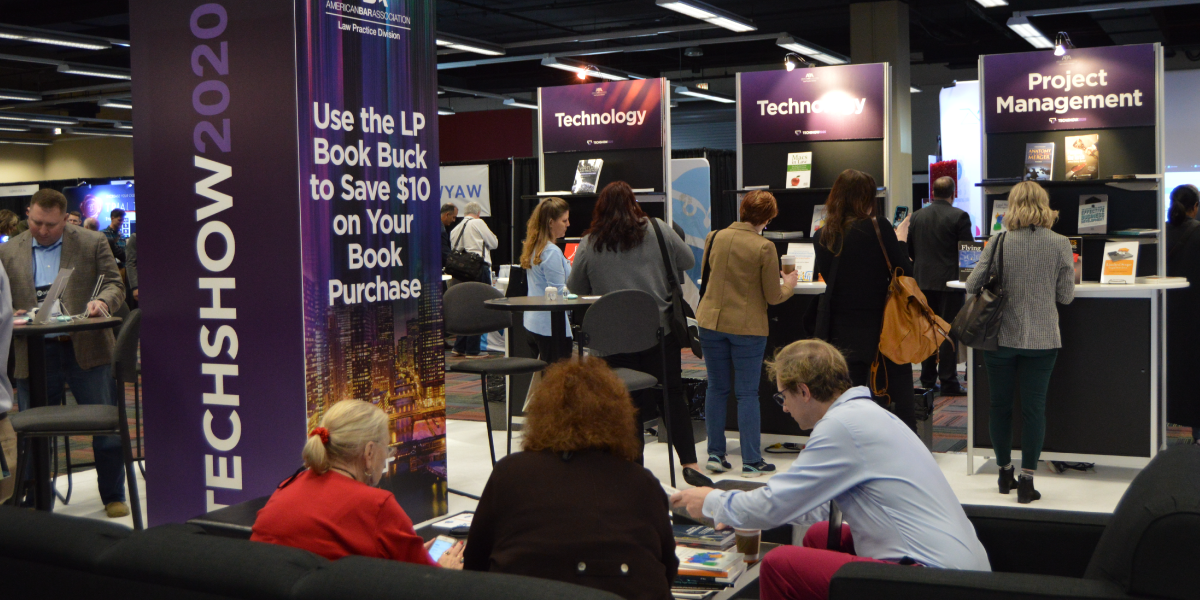 It has been such an exciting year at ABA TECHSHOW 2020 already! There are so many innovative companies looking to change the practice of law (for the better.) I've compiled a list of some of our personal favorite companies that can help you run a more efficient and profitable practice.
This is SearchKings' first year at ABA TECHSHOW. Their specialty is helping lawyers and law firms earn the Google Screened badge and to find new clients. Google Screened is a trusted directory that provides potential clients with the peace of mind that comes with hiring a verified lawyer.
Trellis allows you to search superior court records by keyword to learn how the courts, judges, and opposing counsel have handled similar matters in the past. They leverage the largest and deepest set of context-rich state trial court data, so litigators can spend less time doing academic legal research, and more time gaining strategic insights.
Smith.ai is a superior virtual receptionist service for phone calls, chats, and texts. Their U.S.-based professionals answer calls and chats; screen and intake clients; schedule appointments; and take payments. They integrate with 30+ other companies, including LawPay and Calendly.
WordRake is an automated in-line editing software for professionals (available for Mac or Windows). This software can make any document or email clearer, shorter, and better. In other words, WordRake takes your professional writing to the next level. With one-click editing available in Microsoft Word and Outlook, all communication can get right to the point.
AppearMe created a way for busy litigators, law firms and legal departments to find appearance, freelance and deposition attorneys in 60 seconds. It is the only and fastest growing real-time, on-demand network of thousands of attorneys and litigation support providers sure to help you skyrocket your legal practice.
Go Answer is a family-run, 24/7 contact center that handles inbound calls, web-chats, and intake services for law firms and legal marketing companies of all shapes and sizes. It has 3 state-of-the-art facilities in New York, Florida, and St. Lucia and successfully bridges the gap between quality, affordability and redundancy.
PATLive is a 24/7 phone answering service. It provides all the benefits of a personal receptionist at a fraction of the cost. Whether it be call screening and transfers, message taking, lead collection, appointment scheduling, or help processing orders, their team of virtual receptionists it ready to deliver excellent service on every call.
Flexxbuy provides retainer and legal fee financing solutions to law firms for their clients. It starts with one simple online loan application that is instantly delivered to as many as ten lenders, who each provide a decision within seconds. Flexxbuy has helped hundreds of law firms increase revenue by making fee collection easier and in some cases, possible, at a cost to the firm that is comparable to processing a credit card. Flexxbuy is easy to use and full training and support is provided.
Blue J Legal is AI-powered predictive law software. It predicts legal outcomes with 90%+ accuracy, providing unprecedented insight into the law. Founded in 2015, the company works with public bodies and close to 200 law and accounting firms of all sizes throughout North America. The software currently applies to tax and employment law, but is quickly expanding into other areas of law across multiple jurisdictions. Blue J Legal is on a mission to bring absolute clarity to the law, everywhere and on-demand.
Page Vault helps legal professionals capture web content—such as Facebook, videos, and websites—and create an easy-to-print PDF. Their solutions archive web pages exactly as they appear online and preserve key metadata such as URL and date of access, and affidavits are available for any capture.
Hopefully you enjoyed this list of interesting companies that can help modernize your firm. If you want more advice on how to modernize your firm, feel free to reach out to us!