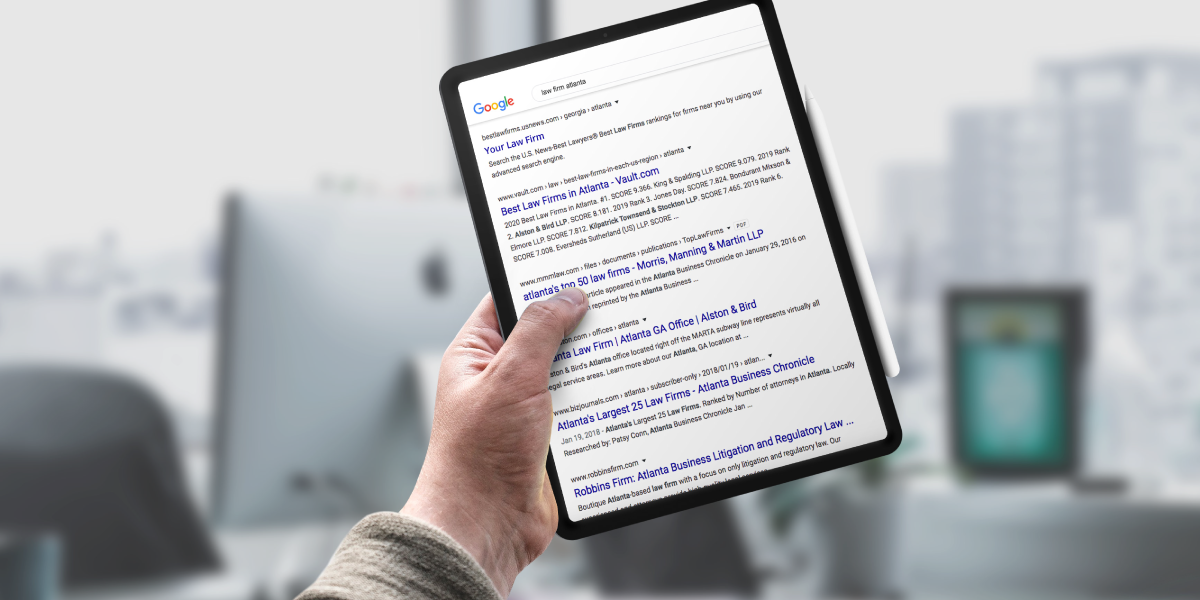 If you're unfamiliar with SEO (search engine optimization), it can feel incredibly overwhelming. My goal is to educate you on law firm SEO specifically so that you don't waste time on efforts that won't help.
Brief Overview of SEO
If SEO is a completely foreign topic to you, then here you go: Search Engine Optimization is essentially a way for you to set up your website for Google to crawl it in a way that that will put you ahead of competitors.
Local SEO vs Non-local SEO
Your SEO strategy will differ if you are trying to reach local clients or not. For instance, we at Centerbase are trying to reach clients across the US, so we will have a different strategy from law firms. According to Google's 2019 data, "Near me" searches have increased more than 500% in the last several years and since most law firms are in the business of reaching local clients, that's what I'll focus on:
Local SEO Tips for Law Firms
1. Google Reviews


These will be your bread and butter and are most important for local SEO. So my advice would be to start here. Do whatever you can to get 5-star reviews on Google. I assure you it will not be a waste of time.

2. Google My Business

Google My Business is an amazing, free way to get exposure. Make sure you fill out your entire profile and include all the photos they ask for (including interior/exterior photos). Double check everything to make sure all your information is correct.


3. Make sure your NAP (Name Address Phone) is the same everywhere.

The way Google decides if your business is legit is if your business Name, Address, and Phone number are the same everywhere - I mean everywhere - Yelp, Glassdoor, social media - you name it. You're probably thinking, "That seems kinda hard to pull off." And it is (without help). I would highly recommend Moz Local for this. It will crawl the entire web and tell you every place your business is listed and tell you if the information is correct or not.

SEE ALSO: Law Firm Branding 101 >>

4. Embed your google map. Ok, here's where it gets a little more technical.






If you're a law firm with one location read this:

My best advice is for you to embed your google map on your 'about' page. Then you're going to make your keyword for this about page " *type of law firm* law firm in *city*." So if you're a family law firm in Atlanta, your keyword will be 'Family Law Firm in Atlanta.'

You will then put this keyword in your H1 (This in the main header title at the top of your page). BUT keep in mind, you want to make it BOTH readable AND SEO-friendly. If you just put 'Family Law Firm in Atlanta', it doesn't sound organic. So you can add a couple of words to it like "Your Favorite Family Law Firm in Atlanta."

One more thing: add your keyword 2 more times on this page in a way that looks natural. So maybe in a paragraph and next to the map.





If you're a law firm with multiple locations read this:

You will want to repeat the above for each location. I would suggest that you don't create an 'all locations' page but rather have a drop-down in your navigation that allows the person to click on their desired location.





5. Get valuable backlinks.


A backlink is where another website puts your website's URL on their website. How do you know if it's a valuable backlink or not? Run some tests. Back to the Atlanta example, enter 'Best family law firms in Atlanta". Most likely, some lists will pop up. Contact every website/company on this front page and see if they will add you to their list.

Another strategy you'll want to employ is to get your URL on websites with a high domain authority to boost your own domain authority. (Domain authority is a number assigned to your website 1-100, determining how 'strong' your website is.) You can find this out with programs like SEMrush but some are no-brainers. If it is a popular website with a ton of content (especially if it's been around a while), it will have a high domain authority. The Medium is one good example. Start an account on The Medium and write some articles related to your practice area.

Hopefully, you don't feel even more overwhelmed than when you started reading! My hope is that you feel empowered and inspired to start boosting your law firm SEO right now. You don't have to be an SEO guru to rise in Google. You just need to be strategic and know the right tips for your specific industry.